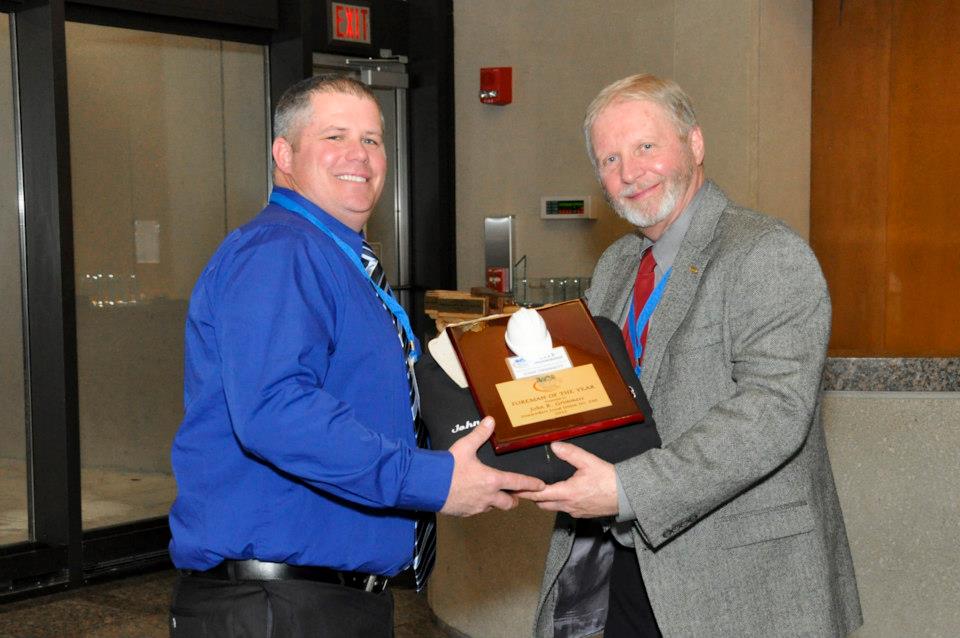 John Grimmett 2012 Foreman of the Year
J&B Steel's John Grimmett receives "2012 Foreman of the Year Award" from Miami Valley Foreman's Club...
John has been with J&B Steel sinceSeptember 29, 1998.
SAFETY
John's dedication to safety during his employment has resulted with no lost time for all of his projects, with his annual jobs total averaging $1.6 million.
QUALITY
The Department of Transportation has given J&B Steel the highest rating for the last five years. He has been responsible for multiple high dollar projects simultaneously and has been able to effectively manage and coordinate the manpower and meet or exceed expectations for all projects—coordinating approximately 60 ironworkers throughout the summer between 25 separate projects within the Dayton and Columbus areas typically leading to additional projects.
PRODUCTION
John consistently brings projects in with the man hours budgeted, while working aggressively to enhance clients' schedule.
COLLABORATION/TEAMWORK
During his 14 year tenure here, he's developed strong bonds with clients and co-workers in the field. His ability to successfully juggle the needs of our clients, our men and our management are a testament to his multi-dimensional talents.
Some of the feedback we received from peers when asked, "What makes John Grimmett successful?" have included:
Rick Bice: "John is successful because he doesn't put himself above anyone else and guys respect him for that."
Chris Flanary: "He PLANS and looks AHEAD."
Domenick Mitchell: "Good group of men and 3 GF's in same area and he cares."
Zach Salyers: "His jobs are well planned and he has trained us well."
Jesse Trimble: "He is organized, confident and surrounds himself with the right people".
Jordan Trimble: "He's pretty good at delegating the work, making sure everyone keeps busy and planning for what's next."
BUILDING BENCH STRENGTH
John has also shown a willingness and effort in working with apprentices in helping them develop their trade skills in shaping them into an ironworker of the future.