J&B Steel Erectors, Inc., is a woman owned, union contractor specializing in furnishing and installing reinforcing steel, post tensioning cable, and setting pre-cast beams. J&B Steel Erectors serves both public and private clients executing highway and bridge, industrial and commercial projects in a wide range of size and complexity within a 175 mile radius of Hamilton, Ohio.
We perform our work to an Exacting Standard. The work we do every day is handled carefully and completely on every job, every site and with every client. We are committed to both our clients and our team. J&B Steel's personnel are the key to our outstanding job performance. We have a core group of ironworkers from locals 172, 290 and 372 and can increase our workforce as needed throughout the year.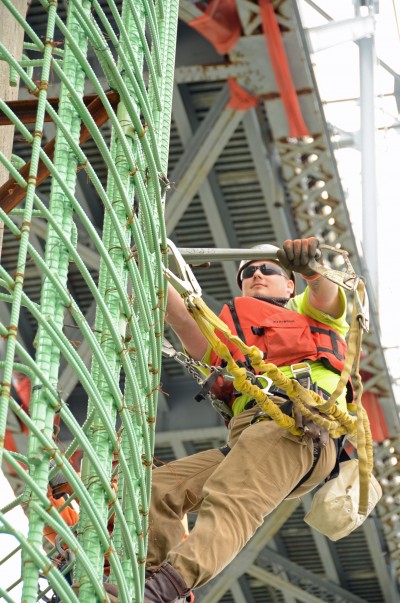 Ryan Paradise Milton Madison Bridge 2011-2013
J&B welcomes Ryan Paradise as a truck foreman after working with J&B Steel for three years. Ryan's family lives in Aurora, Indiana. Married to Destiny and enjoying being the father of two beautiful children son Hutch and daughter Pepper. Ryan also spends time hunting, fishing, four wheeling, and hang out with family and friends. Ryan states "The best thing about working with J&B is that everybody works together and has a good time and fun at work. I have run a lot of neat projects and have become friends with the clients and workers." Ryan claims the most interesting project he has managed is the MiltonMadisonBridgeproject because the Milton-Madison Bridge Project was a unique effort to replace the deteriorating US 421 Ohio River Bridge between Milton, Ky., and Madison, Ind."The bridge has stayed open to traffic through out construction." Through the use of innovative design and construction methods, the bridge remains open during construction, with the exception of a few days. Using a method called "truss sliding," a new 2,427-foot-long truss bridge will "slide" into place atop the existing piers, which are being strengthened and reused. The new bridge will open to traffic in 2013. Ryan has been a Union Ironworker out of Local 372 for six years.