As a specialty contractor, J&B Steel's innovative approach to meeting the needs of today's fast-paced business environment builds on a competitive pricing policy and exacting standards of operation.
Our employees are dedicated to delivering the best. We've made a significant commitment to their hiring and training ... and that means on-time work and performance you can count on.
J&B Steel demands quality in its operations from start to finish. We offer dependable, on-time work by qualified and highly motivated employees.
We break down our work types by:
highway and bridges airport tunnels wind farms hospitals parking garages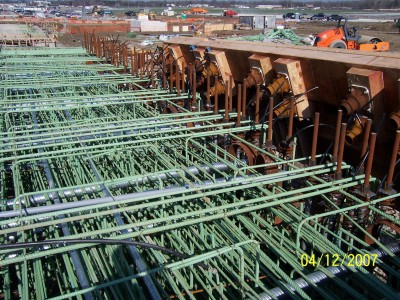 Columbus Airport Taxiway 2007
Post Tensioning
J&B installs post tensioning as well. We helped build the first encapsulated post tensioning system in the State of Ohio for the Capital South parking garage. We also helped install the mono-strand post tensioning in the slabs, and the multi-strand and dywidag post tensioning in the walls for some of the largest concrete tanks of their type at the Hap Cremean treatment plant. In 2012, we helped build a 900,000 square foot parking garage at the Cincinnati Horseshoe Casino.